Born Pretty Store
got in touch to ask me if I'd like to review some products from their website. The likelihood is that if you're into nail art, you've heard of Born Pretty Store. If you haven't, you should definitely
head over
to take a look. It's all
really
reasonably priced and it's free worldwide shipping (they ship from Hong Kong I think so can take a little while for orders to arrive). First, though, have a look at the studs I chose to review. These studs are item
12419
* in black and white and they're 2.5mm squares.
The polishes I used were Models Own Hypergel White Light and Models Own Black Magic. The studs are super easy to use - wait for the base to dry, then top coat it - but straight after, place the studs on top of the wet top coat. I use tweezers because my fingers would make a mess and it helps me to get them pretty straight.
For the zig-zag nails I used
Nail Vinyls
in big chevrons - they are also super easy to use and so much quicker than cutting out strips of Scotch tape!
These studs are $2.22 for 200 from
www.bornprettystore.com
- and they've very kindly given me an offer code to share with you so you can get
10% off your whole order
- it's
FFH10
which you put in when you checkout. Let me know in the comments below what you think of this design... will you be getting some studs for yourself?!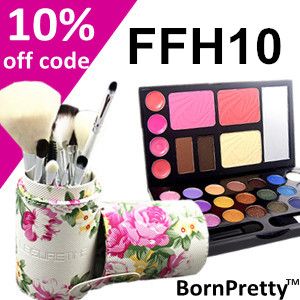 *PR sample